Here, on the right, is a downloadable PDF page of our document, Living Your Purpose, Loving Your Life.
You are welcome to download this and print it out for your own personal use.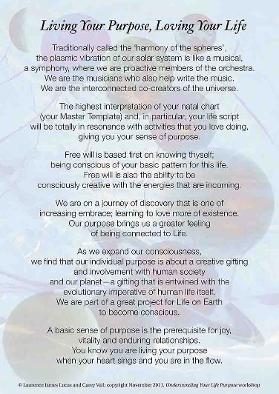 Do you want to know more? Do you want to learn more? Do want to do more?
This section of the website will be regularly updated with sub-pages of articles and other reading materials, including PDF books for sale, as well as more…
Below is the outline of my key service, Life Change Facilitation. These six-part series bring all my work together in a highly personalized synthesis that is directly relevant to your life.
If you are interested in the concepts on this site and are intrigued by the Enchantments of Life map, then please consider undertaking a life change process with me.
Life Change Facilitation
The Life Change Foundation Programme

Are you ready to feel truly connected to your life and to set real change in motion?
I invite you to take part in my six-part transformational programme that catalyses you into greater clarity, a profound awakening and the chance to embody your 'aha!' moments.
The content of this uniquely personal course will include a mix of astrology, psychology and shamanism, as well as energy, intuitive and visionary practices to suit your natural expression and to integrate into your everyday life. I weave in different threads of my work based on where you are now, your life purpose and your essential character.
During this six-part programme of consultations, I help you to:
Understand your life purpose and your life script, as well as recognize and acknowledge your natural mode of being and your present situation;
Follow your rhythms and your emotional cycles on daily, monthly and yearly scales;
Recognize the spaces you inhabit—physically, psychologically and psychically—so that you can set intentions based on your real needs, rather than mere 'wants';
Bring complex concepts into everyday awareness in your life as it is; and,
Make appropriate changes that are both expansive and yet realistic.
We initiate the process with an astrologically based consultation to set the scene. Then in the following sessions, we take our agreed-upon evaluation and apply it to your life.
You will be given enriching and enjoyable tasks to perform each week that will encourage your creative approach to your life. You will also be required to keep a journal for your own empowerment.
Meetings: Six sessions of two hours each, either on Skype or in person at our Enchantments Space on Lamma Island, usually once a week, with supporting reading materials and worksheets. We will communicate by email once or twice between each meeting.
Cost for the programme of six sessions: Hong Kong $8,200 (including PayPal fee) (approximately equivalent to £750 or US$1,060, subject to currency fluctuations, please ask), payable via PayPal.
For more information, please email me.
For those who wish to continue after the foundation programme, I offer either ongoing personal-support consultations, or an advanced learning programme (see below).
I worked with Laurence one-to-one over Skype for an extended period. This was a truly enriching experience for me, during which I learned so much about myself, as well as how to listen to and hear my inner wisdom.
Each week, Laurence built on the previous session and provided me with exercises that we would explore in our next session. The experiential nature of our work together was extremely powerful, giving me a first-hand awareness of my own developing wisdom and allowing me to gain a deeper trust and belief in myself.
Thank you Laurence! You helped me so much and gave me such an anchor at a time when life was in such flux and chaos…. I was able to take refuge in our weekly conversations, where I could feel safe and find my balance to explore new terrain.
Dellarose Rubi-Baevski
www.awakendesigns.com.au
www.awakensoul.com.au
Australia
The Life Change Advanced Programme
Are you looking to change, grow and learn more about our world?
This advanced programme of one-to-one sessions follows on from the Life Change Foundation Programme and is ideal for those who have already woken up and explored different spiritual modalities to some extent.
This extension to the foundation programme utilizes more complex astrology, Mayan astrology, shamanism, psychology and the calendars and rhythms of life, all integrated with the Enchantments of Life and the Enchantment Principle.
The information will still be in accord with your individual experience and natural capabilities, but expands to include more of the collective environment. The nature of our meetings will be more intellectual and philosophic, the intention being to give you a unique insight into the way we evolve as a species.
Meetings: Weekly or fortnightly two-hour Skype consultations or face-to-face meetings on Lamma Island, with homework set for you in between sessions. Innovative reading material will also be provided or recommended.
Cost for the programme of six sessions: Hong Kong $8,200 (including PayPal fee) (approximately equivalent to £750 or US$1,060, subject to currency fluctuations), payable via PayPal.
For more information, please email me.
© Copyright Laurence James Lucas; September 2014
Website design: Carey Vail